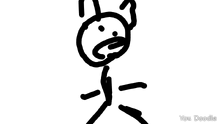 Appearence: He is a poorly drawn stickman with bunny ears.
Behavior: He starts in the Stage Room, then he goes to Party Room 1, Vent 1, Cafeteria and then the office. You must close the door. He only enters the left one.
First Appearence: Stage Room
Becomes Active On: Any night.
Colors: Black (blue when in game)
Species: Stickman (with bunny ears)
Gender: Male
Audio: